#CoolestCarib @CoolestCarib
Celebrating Caribbean Islands!

Caribbean Radio Stations

PRESS PLAY! New Caribbean Radio EVERY DAY!
ST. KITTS & NEVIS WINN FM

PUERTO RICO Isla

MARTINIQUE 1ere

ST. MARTIN Radio Maranatha

See More Stations

Caribbean Blog

Electric Cars Gaining Energy in the V.I.

When St. Thomian Adrien Austin founded Drive Green VI six years ago, he dreamed of igniting a revolution in how Virgin Islanders drove – or what they drove – and in a bid to accelerate the process, he put electric cars at the forefront of his venture. "Nowhere in the world does a car depreciate …

Featured Businesses

St. Thomas - USVI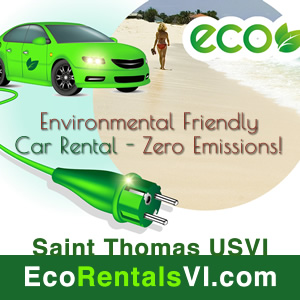 EcoRentalsVI.Com

is a new electric car rental agency in Saint Thomas US Virgin Islands. In summary: The 1st all environmental friendly car rental, zero emissions, doesn't require oil changes, filters, spark plugs, doesn't need tune ups, no filling up disposal sites. No filling up of dumpster bins with pollutants or waste. No visiting gas stations.
The Cool Factor: Zero Emissions!

MORE INFO
St. Croix - USVI
The New Deep End

is a casual yet classy beach bar in St. Croix, USVI, with a beautiful view of the Caribbean Sea, white sand beaches and an abundance of friendly faces. Both locals and visitors alike enjoy the wonderful ambiance and yummy food.
The Cool Factor: Most Entertaining Bar Restaurant Award

MORE INFO
St. Lucia
GemXcurions

is a no-nonsence tour operator. They're no Ritz Carlton, so don't expect a 5 star tour bus. Expect to drive in a taxi with a friendly driver and an informative tour guide who will give you an exciting tour for half the standard rate you would pay on the cruise ship. They have tours to the waterfalls, Pitons, Mud Baths, beaches, airport transfers and custom tours too.
The Cool Factor: Custom Tours

MORE INFO
BVI (British Virgin Islands)
BVI.

Discovering the beauty of BVI is all about uncovering the unique character of each island in this unspoiled volcanic archipelago. From the culture and history of BVI's four largest islands to the pristine natural splendor of more then 50 smaller isles, every place you drop anchor offers its own special magic.
The Cool Factor: Balmy trade winds year-round

MORE INFO
Martinique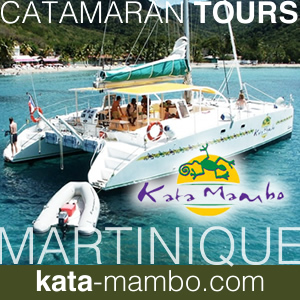 FOR ENGLISH, CLICK ON ADVERT.


Kata Mambo

Fort de 15 ans d'expérience, Kata Mambo est spécialisé dans l'organisation de sorties en mer en catamaran et en excursions en 4x4.

Kata Mambo vous offre le choix entre différentes sorties à la journée:
Mettez le cap sur le Nord de la Martinique pour un programme découverte « Nord Caraïbe » à la rencontre des dauphins à bord du catamaran Kata Mambo.
Découvrez la nature exubérante du Nord en 4x4 pour une journée de détente, de découverte et de dégustation des fruits pays.
Découvrez un concentré des richesses du sud de l'ile grace au combiné 4x4 / catamaran.
Notre équipage professionnel et diplomé vous accompagnera tout au long de la journée pour partager des moments magiques dans une ambiance conviviale.
The Cool Factor: Many catamarans, many tour options

MORE INFO
See More Businesses

CoolestCarib Photo Feature!

CoolestCarib Photo Feature!



Participate or Donate

Donations are welcome and much appreciated!
All donations go to the Caribbean Directory Project.