Cozumel

(Island of the Swallows) is the largest island in the Mexican Caribbean.

Located off the eastern coast of Mexico's Yucatán Peninsula, opposite Playa del Carmen. View Map

Cozumel is famous for its dense green vegetation, beaches with fine coral sand, scuba diving location and crystal-clear turquoise sea.
Top 10 Things
Random Order
1.
Hacienda Antigua Tequila Tour and witness how Mexicans turn a spiky plant into their national drink?
2.
San Gervasio Mayan Ruins - built in AD 800.
3.
El Mirador Lookout
4.
A Diver's Delight: Palancar Reef
5.
Laguna Chankanaab, a small freshwater lake
6.
Island Museum
7.
Punta Sur Eco Beach Park
8.
Stingray Beach
9.
Celarain: Cozumel's Lighthouse
10.
Cozumel Market - for strolling, food and people watching.

Vacation Highlight
Editor's Choice
Cozumel is one of the ten municipalities (municipios) of the Mexican state of Quintana Roo. Cozumel is a tourist destination for its balnearios, scuba diving, and snorkeling. This Mexican island may be small enough to drive around in one afternoon, but packs a punch in terms of activities offered to visitors.
But first ensure you have wheels to get around. Ernesto's Rental offers scooter and jeep rentals at an affordable rate. Read more about them by clicking the Car Rentals tab above.
Enjoy your stay!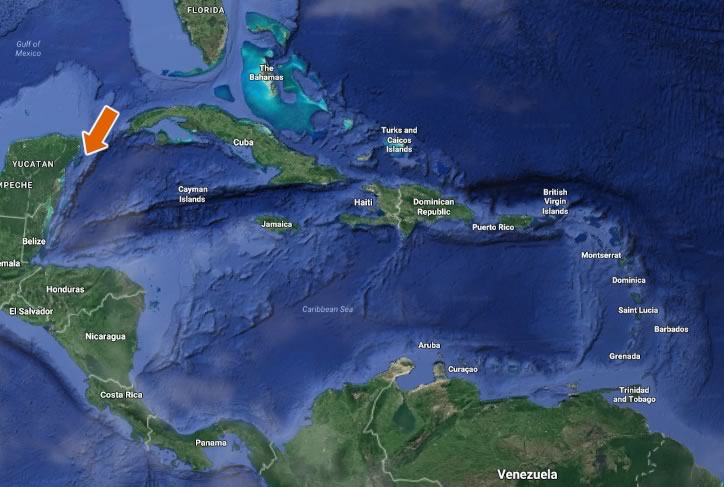 If you own or manage a business in the
Caribbean
and need
professional assistance with your website
and social media,
gandor.tv
will create, maintain, host and promote your website for you.
National Anthem
"Himno Nacional Mexicano"


Meaning
Cozumel:
Yucatec Maya: Kùutsmil
English: Island of the Swallows
Nationality
Mexican and Mayan (ethnic group)
Size
647.33 km2 (249.94 sq mi)
Population
100,000 (as of 2011)
Coordinates
20 deg 25' N 86 deg 55' W
Capital
San Miguel de Cozumel
Time Zone
UTC -6
Drives on the
Right
Currency & Credit Cards
Mexican Peso
Banks
HSBC Sucursal 1780, Banco Santander, Banco Mercantil del Norte, Banco Monex S.A.
Animals
Iguanas, raccoons, manatees, peacocks, crocodiles, mongoose, horses, donkeys, various species of lizard, various birds species, various insect species
Food
Sweet and sour oranges, limes, grapefruit, papaya, and avocado. The mamey tree, which grows to 15-20 meters in height, provides a brown avocado-shaped fruit with a sweet salmon-pink flesh in the middle (a flavor similar to the sweet yam). A lanky evergreen known as the Guaya produces small, green, leathery pods that grow in clumps like grapes. These pods have a sweet, yellowish, jellylike flesh.
Plants
The tropical forests include mangroves, bamboo, swamp cypresses, ferns, vines, and flowers, include orchids (71 species), and many types of palm trees. Henequen, Ceiba (Mayan Tree of Life), Framboyanes (royal poinciana) trees are also found here. The Southern part of the Yucatan Peninsula has tropical rainforests with tall mahoganies, campeche, zapote, and kapok, all of which are covered by jungle vines. White and Red Ginger herbs, Plumeria, Hibiscus and bougainvillea bloom in the forests and Morning Glory creeps over trees and bushes.
Language
Spanish
Brief History
The Maya are believed to have first settled Cozumel by the early part of the 1st millennium AD, and older Pre-Classic Olmec artifacts have been found on the island as well. There are a number of ruins on the island, most from the Post-Classic period. The largest Maya ruins on the island were near the downtown area and have now been destroyed. Today, the largest remaining ruins are at San Gervasio, located at the center of the island.
The first Spanish expedition to visit Cozumel was led by Juan de Grijalva in 1518. In 1650 many of the Mayan islanders were forcibly relocated to the mainland town of Xcan Boloná to avoid buccaneers' predation. Later, in 1688, the rest of the island's population, as well as many of the settlements along the Quintana Roo coast, were evacuated inland to towns such as Chemax.
In 1848, refugees escaping the tumult of the Caste War of Yucatán settled on the island and in 1849 the town of San Miguel de Cozumel was officially recognized by the Mexican government.
The original airport was a World War II relic and was able to handle jet aircraft and international flights, a much larger airport was built in the late 1970s. This resulted in much greater tourism to Cozumel.
Scuba diving is still one of Cozumel's primary attractions, mainly due to the healthy coral reef marine communities. These coral reefs are protected from the open ocean by the island's natural geography. In 1996, the government of Mexico also established the Cozumel Reefs National Marine Park, forbidding anyone from touching or removing any marine life within the park boundaries.
The island was struck directly by two Category 5 hurricanes during the 2005 Atlantic hurricane season. Despite Emily being a powerful storm, it was the slower moving Hurricane Wilma that caused the most destruction when it hit the island in October. There was some damage to the underwater marine habitat. This included the coral reefs, which suffered particularly at the shallower dive sites, and the fish that inhabit the reefs. [info: Wikipedia]

Coolest Caribbean
Tip of the Day
Iguanas may look like mini Godzillas, but they're really friendly fruit eaters. They won't touch you if you don't touch them.