Antigua &
Barbuda
Services
Antigua &
Barbuda
Photos
Antigua & Barbuda is an independent Commonwealth country comprising two islands: Antigua and Barbuda, and many minor islands.
Antigua and Barbuda is located in the Lesser Antilles, one of the Leeward Islands lying between the Caribbean Sea and the Atlantic Ocean. View Map
Antigua and Barbuda is known for its rainforests, resorts and reef-lined beaches - a beach for every day of the year. Yes, these two islands boast more than 365 beaches.
English Harbour is a yachting hub and the location of the historic Nelson's Dockyard.
Top 10 Things
Random Order
1.
Snorkeling at Half Moon Bay - protected by a reef.
2.
Kitesurfing Lessons & Rentals at Jabberwock Beach
3.
Frigate Bird Sanctuary, Barbuda.
4.
Betty's Hope History Museum
5.
Swimming of friendly stingrays at Stingray City.
6.
Pink-tinged sand of 17 Mile Beach, Barbuda
7.
Nelson's Dockyard National Park
8.
Dickenson Bay - touristy - Windsurfing & Kitesurfing!
9.
Capital city St. John - St. John's Cathedral & Museum of Antigua and Barbuda
10.
Devil's Bridge: Indian Town National Park, Antigua

Vacation Highlight
Editor's Choice
Jabberwock Beach! It's great for swimming, snorkeling, jogging and also it's the main kitesurfing beach on island. If there's wind look out for
Kitesurf Antigua
, the island's first and only choice for kitesurfing lessons. Jabberwock Beach is on the north side next to the AUA (American University of Antigua) medical school.
Enjoy your stay!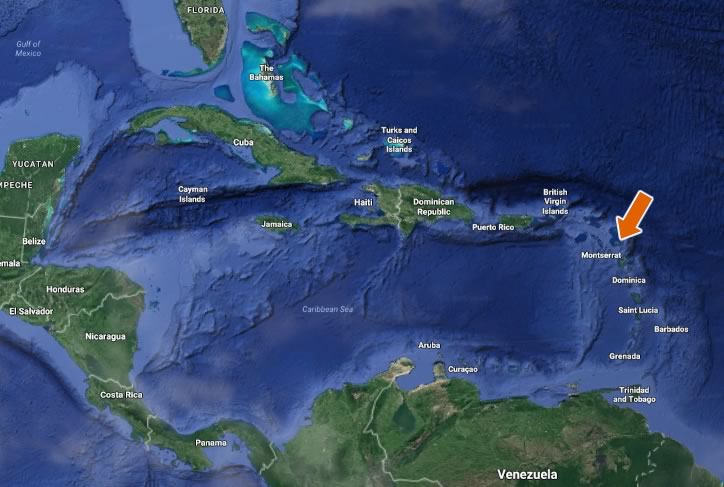 If you own or manage a business in the
Caribbean
and need
professional assistance with your website
and social media,
gandor.tv
will create, maintain, host and promote your website for you.
NATIONAL ANTHEM
"The Antigua and Barbuda national anthem"

Weather Forecast
Antigua and Barbuda
Photo Feature Antigua & Barbuda
Tag us @CoolestCarib

Fun Facts
Antigua & Barbuda
Nationality
Antiguan and Barbudan
Size
440 km2 (170 sq mi)
Population
101 000
Local Radio Station
Zoom Radio, Sun FM, Radio Hitz FM 91.9
Currency & Credit Cards
East Caribbean dollar (XCD)
Government
Unitary, parliamentary representative democratic monarchy.
Independence
Independence from the United Kingdom: 1 November 1981
Time Zone
Eastern Caribbean (UTC-4)
Drives on the
Left
Calling Code
+1 268
Animals
Iguanas, pelicans, mongoose, scorpions (not poisonous), donkeys, deer, hummingbirds, herons, bats and more. There are also various lizards, frogs and insects.
Food
Banana, Mango, Orange and Cashews. One of the Antiguan staple foods is fungi - cooked paste made of cornmeal and water.
Plants
Frangipani, Allamanda, Heliconia, Bougainvillea, Oleander, Hibiscus, Double Hibiscus, Flamboyant (Orange), Flamboyant (Yellow), Ixora, Agave / Century Plant, Cactus. The planting of acacia, mahogany, and red and white cedar on Antigua resulted to as much as 11% of the land becoming forested, attributing to the island's soil and water conservation.
Lingo
Ent it? means Isn't it? Otherwise Standard British English is spoken. The educational system dissuades the use of Antiguan Creole.
Brief History
Antigua was first settled by archaic age hunter-gatherer Amerindians called the Siboney at around 3100 BC. They were succeeded by the ceramic age pre-Columbian Arawak - people who migrated from the lower Orinoco River. They introduced agriculture, raising the famous Antigua black pineapple corn, sweet potatoes, chiles, guava, tobacco, and cotton.
The indigenous West Indians made excellent seagoing vessels which they used to sail around on the Atlantic and the Caribbean. As a result, Caribs and Arawaks were able to colonise much of South America and the Caribbean Islands. Their descendants still live there, notably in Brazil, Venezuela, and Colombia.
Most Arawaks left Antigua around 1100 AD; those who stayed were later raided by the Caribs who had superior weapons and seafaring prowess allowing them to defeat most of the West Indian Arawak nations, enslaving some and possibly cannibalising others.
The Catholic Encyclopedia makes it clear that the European invaders had difficulty differentiating between the various groups of the native peoples they encountered. As a result, the number and types of ethnic/tribal groups in existence at that time may have been much more varied and numerous than just the two mentioned in this article.
European and African diseases, malnutrition, and slavery eventually killed most of the Caribbean's native population. Smallpox was probably the greatest killer. Historians say psychological stress of slavery may also have played a part in the deaths amongst enslaved natives. Others believe the reportedly abundant but starchy, low-protein diet may have contributed to their severe malnutrition as they were used to a diet fortified with protein from the sea.
The Spaniards did not colonise Antigua because it lacked fresh water but not aggressive Caribs. The English settled on Antigua in 1632; Christopher Codrington settled on Barbuda in 1684. Slavery, established to run sugar plantations around 1684, was abolished in 1834. The British ruled from 1632 to 1981, with a brief French interlude in 1666. The islands became an independent state within the Commonwealth of Nations on 1 November 1981, with Elizabeth II as the first Queen of Antigua and Barbuda. Vere Cornwall Bird Sr became the first Prime Minister.
Most of Barbuda was devastated in early September 2017 by Hurricane Irma, which brought winds with speeds reaching 295 km/h (185 mph). The storm damaged or destroyed 95% of the island's buildings and infrastructure, leaving Barbuda "barely habitable" according to Prime Minister Gaston Browne. Nearly everyone on the island was evacuated to Antigua. Source: Wikipedia

Coolest Caribbean
Tip of the Day
You like snorkeling in the Caribbean? So do we! Enjoy, but please try not to touch and take the coral out the water - it's a living organism and could die, and consequently also kill a whole colony of sea life that depend on the coral for food.