Curaçao is a constituent country of the Kingdom of the Netherlands.
Curacao is the C in the ABC islands. The other two are Aruba and Bonaire.
Curacao is located in the southern Caribbean Sea just north of Venezuela, east of Aruba. View Map
Curacao is famous for its moving pontoon bridge, its quaint European-style architecture, spectacular scuba diving locations and beautiful beaches.
Top 10 Things
Random Order
1.
Queen Emma Pontoon Bridge
2.
The Hato Caves
3.
Visit Curacao's Ostrich Farm
4.
Shete Boka National Park
5.
Cliff Jumping in Grote Knip "Playa Abou"
6.
Visit the Suplado Blow Hole!
7.
Handelskade, that stretch of Colonial Dutch buildings painted in brilliant pinks, blues and yellows line the waters of St. Anna Bay.
8.
Playa Lagun
9.
Christoffel National Park
10.
Stroll in Riffort Village for shopping

Enjoy your stay!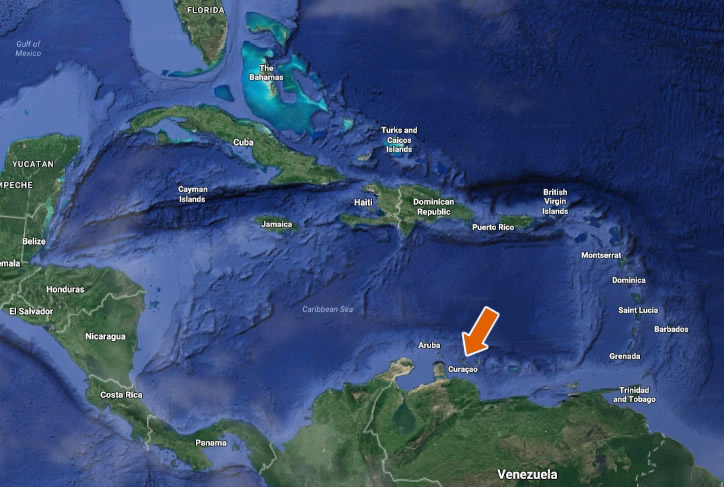 If you own or manage a business in the
Caribbean
and need
professional assistance with your website
and social media,
gandor.tv
will create, maintain, host and promote your website for you.
National Anthem
"Himno di Kòrsou"
"Anthem of Curaçao"


Nationality
Curaçaoan or Dutch
Size
444 km2 (171 sq mi)
Geography
Curaçao includes the main island plus the small, uninhabited island of "Klein Curaçao" (Little Curaçao).
Population
160,012 inhabitants (2018 estimate)
Currency & Credit Cards
The local currency in Curaçao is the Netherlands Antillean guilder, the florin, abbreviated as Nafl. or Ang. You can get by with U.S. dollars or credit cards, but most vendors will only give you change in florin. The U.S. dollar is at a stable rate of US$1.00 for Naf 1.75
Government
Curaçao has gained self-government on January 1, 1954 as an island territory of the Netherlands Antilles. In 2006, Emily de Jongh-Elhage, a resident of Curaçao, was elected as the new prime minister of the Netherlands Antilles, and not Curaçao.
Capital
Willemstad: 12°7'N 68°56'W
Time Zone
AST (UTC-4)
Drives on the
Right
Calling Code
+599 9
Food
Local food is called Krioyo (pronounced the same as criollo, the Spanish word for "Creole") and boasts a blend of flavours and techniques best compared to Caribbean cuisine and Latin American cuisine. Dishes common in Curaçao are found in Aruba and Bonaire as well. Popular dishes include: stobá (a stew made with various ingredients such as papaya, beef or goat), Guiambo (soup made from seafood and okra, which is a flowering plant with edible green seed pods), kadushi (cactus soup), sopi mondongo (intestine soup), funchi (cornmeal paste similar to fufu, ugali and polenta) and a lot of fish and other seafood. The ubiquitous side dish is fried plantain (looks like a banana but is cookable). Local bread rolls are made according to a Portuguese recipe.
The ubiquitous breakfast dish is pastechi: fried pastry with fillings of cheese, tuna, ham, or ground meat. Around the holiday season special dishes are consumed, such as the hallaca and pekelé, made out of salt cod. At weddings and other special occasions a variety of kos dushi are served: kokada (coconut sweets), ko'i lechi (condensed milk and sugar sweet) and tentalaria (peanut sweets). The Curaçao liqueur was developed here, when a local experimented with the rinds of the local citrus fruit known as laraha. Surinamese, Chinese, Indonesian, Indian and Dutch culinary influences also abound. The island also has a number of Chinese restaurants that serve mainly Indonesian dishes such as satay, nasi goreng and lumpia (which are all Indonesian names for the dishes). Dutch specialties such as croquettes and oliebollen are widely served in homes and restaurants.
Thank you Wikipedia!
Plants
The trademark
Watapana Tree
, known as the Divi Divi Tree in Aruba) always points in a southwesterly direction, due to the trade winds that blow across the island from the north-east. Attempts to plant this 'compass' tree in other parts of the world have proved unsuccessful. Also found -
Mondis (forests of cacti)
. Also widespread are
Caribbean Pines
, a variety of
Hibiscus
as well as
Bougainvilleas
,
Wild Orchids
and other
cacti, vines, shrubs
and
trees
.
Lingo
Dutch and Papiemento/Papiamentu, which is the widely spoken on the Caribbean ABC islands (Aruba Bonaire and Curaçao) where it has official status as the native language. The language is also recognized on Bonaire by the Dutch government.
Papiamento is derived from African and Portuguese languages with some influences from American Indian languages English, Dutch and Spanish (mostly Spanish). Papiamento has two main dialects: Papiamento, spoken primarily on Aruba; and Papiamentu, spoken on Curaçao. The Bonaire variety, while not considered a dialect, is known as Papiamen.
Thank you Wikipedia!

Religion
72.8% Roman Catholic
Sovereign State
Kingdom of the Netherlands
Legislature
Estates of Curaçao
Autonomy
The Netherlands Antilles was an autonomous Caribbean country within the Kingdom of the Netherlands. It was dissolved on 10 October 2010
After dissolution, the "BES islands" of the Caribbean Netherlands-Bonaire, Sint Eustatius and Saba-became "special municipalities" of the Netherlands
Climate
Curaçao has a semi-arid savanna-like climate with a dry season from February to September and a wet season from October to January. The temperatures are relatively constant throughout the year with small differences between winter and summer. The trade winds cool the island during the day and warm it during the night. Curaçao lies outside the hurricane belt.

Coolest Caribbean
Tip of the Day
If you want us to share your Caribbean adventure just mention or tag @CoolestCarib on your tweets, updates, Instagram, Tumblr or Google Plus.