Puerto Rico

, officially the Commonwealth of Puerto Rico, is an Unincorporated U.S. Territory.

An Unincorporated Territory of the United States means that Congress has determined that only select parts of the U.S. Constitution apply.

Puerto Rico is located between the Caribbean Sea and the North Atlantic Ocean, east of the Dominican Republic. Only about 1,000 miles or 1,600 km southeast of Miami, Florida. View Map.

Puerto Rico is famous for its rich history, tropical rainforest, landscape of mountains, waterfalls, national wildlife, beaches and nightlife.
Top 10 Things
Random Order
1.
El Morro (Fuerte San Felipe del Morro) - Old San Juan
2.
El Yunque National Rainforest - Luquillo
3.
Mosquito Bay / Bioluminescent Bay - Offshore island of Vieques
4.
Cabo Rojo National Wildlife Refuge
5.
6.
Camuy River Cave Park "Parques de Las Cavernas del Rio Camuy"
7.
Castillo de San Cristobal - Old San Juan
8.
Arecibo Observatory
9.
Condado Beach - FREE
10.
Caja de Muertos Island - Ponce
Vacation Highlight
Editor's Choice
Let's start the day with a healthy breakfast in Old San Juan!
Cafe Berlin
with its red-umbrella, people-wathcing veranda offers just that and more. Actually their menu boasts a vast variety of international, Puerto Rican, vegan and vegetarian cusine, and a selection of coffees and teas and they're open until late.
Then there is the culturally inspired, artists loved and loving multi-leveled coffee shop, gallery and open mic venue called Poet's Passage. A must for any coffee drinker with the love poetry and arts. And if you're not into arts just come for the delicious cake, quiche and free wifi.
What about activity you ask? How about surfing or boating?
Puerto Rico has the best surf spots in the entire Caribbean. With its Hawaiian size waves Puerto Rico should never be skipped by anyone who calls themselves a surfer. But before you even think about venturing to the west side of Puerto Rico, stop over at Tres Palmas Surf Shop at Ocean Park, San Juan. Tres Palmas, run by surfers, sells everything surf (and skateboard) related; clothes, surfboards, shades and anything you can possibly think of a surfer or his/her entourage needs.
Not a surfer? No worries! How about boating? Like to go out with a group of people on a catamaran, sail, snorkel and chill for a full day? Check out PuertoRicoBoatTrips.com, they offer sailing snorkeling and fishing excursions, and a variety of yachts to choose from.
If you're in Puerto Rico for only a day how about going on a quick mini-catamaran ride at Condado beach. It's so affordable, the local there will take you on a wild 20 minutes wave ride for a $20 tip. But you can pay more if you want to. Support the small businesses where the money goes to the owners and not a big corporation.
Planning to stay in Puerto Rico for a few weeks or months and looking for affordable accommodation close to the beach, have a look at Mok Properties PR.
Enjoy your stay!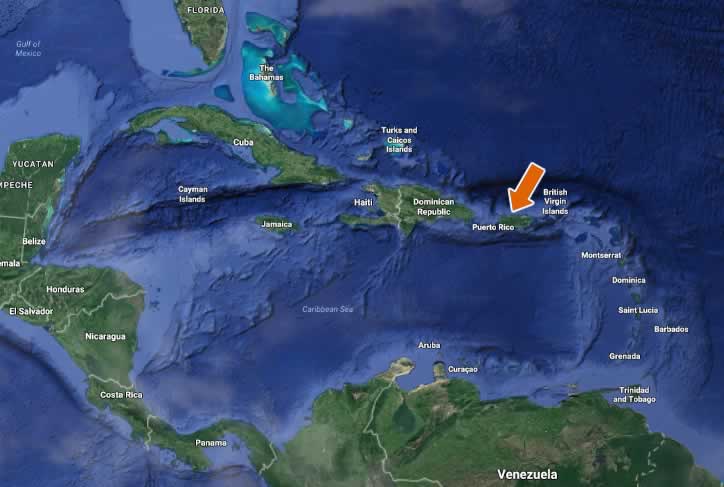 If you own or manage a business in the
Caribbean
and need
professional assistance with your website
and social media,
gandor.tv
will create, maintain, host and promote your website for you.
National Anthem
"La Borinqueña"

Weather Forecast
Puerto Rico
Photo Feature Puerto Rico
Tag us @CoolestCarib

Nationality
Puerto Ricans and U.S. citizens, but they do not have voting representation in the United States Congress, and are not entitled to electoral votes for President
Size
9,104 sq km (3,508 sq mi)
The maximum length from east to west from Punta Puerca to Punta Higuero is 180 km (110 mi). The maximum width from north to south from Isabella to Punta Colón is 65 km (40 mi).
Capital
San Juan - founded in 1508, by Juan Ponce de León.
Population
3.966 million
Geographic Coordinates
Latitude: 18 15 N
Longitude: 66 30 W
Currency & Credit Cards
US Dollar. Major Credit Cards are accepted. ATM machines are located in banks and selected commercial outlets
Banks
There are about 19 commercial banks in Puerto Rico, most of them local corporations. Banco Popular is the largest in the island with over one hundred branches throughout the island. Banco Santander is the second largest bank in Puerto Rico. The government owns and operates two specialized banks - the Government Development Bank (GDB) and the Economic Development Bank (EDB). Banks offer a wide range of products and services such as checking and savings accounts, CDs, IRAs, loans, credit and debit cards, and electronic banking. There are many automatic teller machines referred to as ATHs. Banks are insured by the Federal Deposit Insurance Corporation. They are subject to all Federal controls applicable to banks in the United States of America.
Taxation
Puerto Rico residents are subject to income tax on their worldwide income. Non-residents are subject to Puerto Rico tax on their Puerto Rico source income. Expatriates taking up employment in Puerto Rico will be subject to comprehensive tax if they are here for a period of 183 days or more.
Animals
The fauna of Puerto Rico includes bats, which are the only native terrestrial mammals in Puerto Rico. All other terrestrial mammals in Puerto Rico were introduced by humans. They include cats, sheep, goats, escaped monkeys, the Small Asian Mongoose, a few snakes (none are poisonous), iguanas and lizards. Puerto Rico's insects include mole crickets and termites known to damage crops and buildings. Marine mammals include manatees, whales and dolphins. In Puerto Rico there are about 349 bird species. The most famous and recognizable animal of Puerto Rico is the Common Coquí, a small endemic frog. Fish include barracuda, herring, mackerels, marlin, mullet, pompano, sharks, snappers, spanish and tuna.
Food
Puerto Rican cusine is a little similar to Spanish, Cuban and Mexican food. However it has a unique flavorful blend of Spanish, Taíno, African and American tastes. Puerto Rican food typically use indigenous seasonings and ingredients. Locals call their food 'cocina criolla', meaning Créole cooking which can be traced back to the Tainos and Arawaks the original inhabitants of Puerto Rico. Cocina criolla is tradionally cooked with Coriander, papaya, apio, cacao, nispero, yampee and plantains. Natural food in Puerto Rico include papayas, breadfruit, sea grapes, guanabanas, and star apples.
Plants
Most of Puerto Rico's tropical forests are gone. The remaining trees are for beauty. Puerto Rico has beautiful flowers such as orchids and poinsettias. Other plants include flaming red blooms, poinciana, African tulips, and huge Kapok trees that produce nuts and fruit. The Kapok tree grows nowhere else in the USA.
Lingo
Spanish and English, but Spanish is the dominant language. English is spoken by about 1/4 of the population.
Brief History
During Christopher Columbus's second voyage to the new world he bumped into Puerto Rico in 1493 with a soldier Ponce de León. The island was named San Juan Bautista (St. John the Baptist). After this brief visit, Columbus sailed the Mona Passage west in search of more lands. Puerto Rico was left unvisited by the Europeans for 15 years. On August 12, 1508 Juan Ponce de Leon invaded Puerto Rico with a small army and became the first government of Puerto Rico. They first established the town Caparra, located near the south shore of what is today the San Juan Bay. The original inhabitants of Puerto Rico, the Taino aborigines, 30,000 strong, were physically and technologically inferior to resist the Spaniards goal to conquer the island. With their primitive weapons they had no chance against the swords and fire arms of the Spannish. The Tainos were turned into slaves and used for mining work.
Not for long after the invasion the Tainos, lead by their leader, Agueybana, rebelled and began to launch bloody raids against the isolated Spanish settlements. During one confrontation Agueybana was shot dead and some Tainos fled into the island's mountains and forest and others canoed to nearby islands. After this the Taino resistance became weak and the enslaved Tainos started to kill their own offspring and committed suicide. The lack of slave labor prompted Ponce de Leon to go after the Tainos on land and sea.
By 1514 there were less than 4,000 Tainos left and African slaves were introduced. In 1519 the smallpox epidemic (allegedly brought to the island from Africa) killed many Tainos and Spaniards. In 1521, during one of his exploratory visits in Florida, Ponce de Leon was wounded by an Aborigine's arrow and died of gangrene at the age of 47. Ponce de Leon's remains rest beneath a marble slab in the San Juan Cathedral, in Old San Juan. The coming years the Caribe aborigines who were known to be cannibals started attacking the island.
In time, as mining resources became more scarce, cultivating sugar cane became the most importan economical activity. The climate was ideal and African slaves labor was cheap. By now the Spanish had built a rich empire in the new world. Convoys of ships loaded with silver, pearls, and all kinds of treasures from the new world sailed the Caribbean Sea and were often attacked by French, English and Dutch pirates. To avoid that enemies take the island of Puerto Rico and use it as a base from which to attack the treasure fleets, Spain authorized the fortification of San Juan. The construction of El Morro de San Felipe Castle began in 1539. In 1595 El Morro was attacked by Sir Francis Drake and his fleet. Fortunately for the Spaniards El Morro proved itself worthy for battle and the enemy was fought off. George Clifford, the count of Cumberland took the city but couldn't take El Morro. After suffering of exhaustion in the sun they were forced to leave. The Dutch also attacked Puerto Rico twenty seven years later under General Boudewin Hendricksz. They sieged San Juan and burnt down a great part of the city. Not being able to take El Morro, they also left. Finally the city was completely encircled with a 50 foot wall and the San Cristobal castle was constructed to protect the eastern part of the city. Part of the wall was demolished later on in the twentieth century. Today the cobble stones streets, hanging balconies, interior patios, plazas and chapels make of this historic city a charming and picturesque place for visitors.

Coolest Caribbean
Tip of the Day
Best holiday deals in the Caribbean are between June and September. It's off season, so expect really really good deals in terms of accommodation, car rentals and boating trips. Don't be shy to ask companies whether they're running specials. Also follow CoolestCarib on social media for specials. We're on Facebook, Twitter, Instagram and Tumblr.