gandor.tv |
Web Production & Caribbean Social Media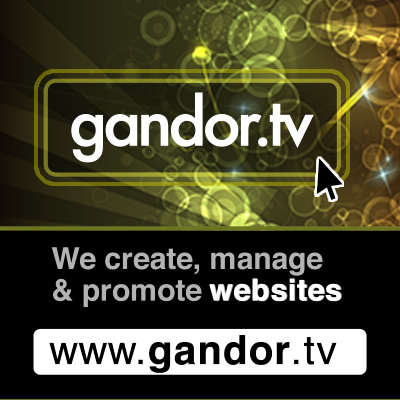 gandor.tv

specializes in creating, managing and promoting websites in the Caribbean. They are known for their customer service, maintenance packages, fast response, e-commerce, booking systems and social media magic.



The cool factor:

Maintenance package ensures your website always works, always looks good and always attains high search engine rankings.



---
CoolestCarib.com |
Advertise Here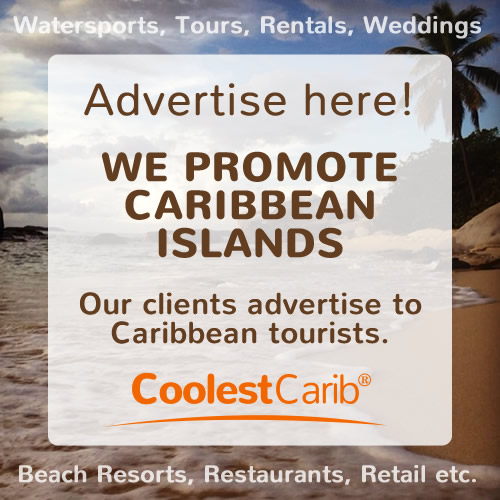 Coolest Carib

promotes Caribbean Islands and their tourist services. Advertisers who benefit the most from our services include car rentals, catamaran tours, kitesurfing schools, water-sports rentals, scuba diving centers, beach resorts, hotels, restaurants, scooter rentals, boating excursions etc. The website is mostly viewed by Caribbean travelers and tourists. For more information about our rates and exposure scope view our advertising page.



The cool factor:

We place your advertisement on 50+ Caribbean websites



---
gandor.tv |
Web Production & Caribbean Social Media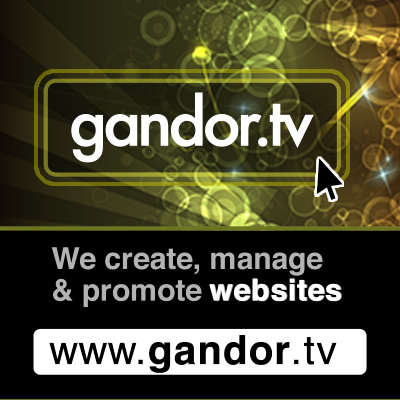 gandor.tv

specializes in creating, managing and promoting websites in the Caribbean. They are known for their customer service, maintenance packages, fast response, e-commerce, booking systems and social media magic.



The cool factor:

Maintenance package ensures your website always works, always looks good and always attains high search engine rankings.



---
Turks And Caicos Tourism |
Tourism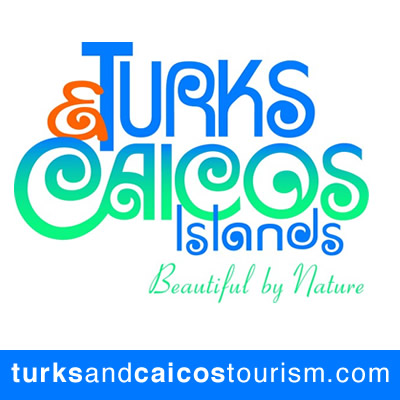 Turks And Caicos Islands

consist of seven main islands in the country and about 40 small islands and uninhabited cays. Providenciales and Grand Turk are home to the majority of the country's population. Both islands host nearly all of the infrastructure and tourism. Home to the Best Beach in the World, breathtaking hues from inviting waters, and legendary diving, snorkeling and fishing. World class Turks and Caicos Luxury Hotels, Spas, and Restaurants await, as do our famous stretches of uncrowded beaches and vibrant coral reefs. On land or below the water, you'll relax in the unique serenity, hospitality and beauty of our islands.



The cool factor:



---
The Turks and Caicos Islands
, also called TCI, are a British Overseas Territory. They consist of the larger Caicos Islands and smaller Turks Islands, two groups of tropical islands in the Lucayan Archipelago of the Atlantic Ocean and northern West Indies
View Map.
The Turks And Caicos Islands are known for their exotic beaches, variety of watersports and whales.
Top 10 Things
Random Order
1.
Grace Bay Beach -recently voted one of the best in the world.
2.
Scuba Diving at Salt Cays and Smith's Reefs
3.
Kiteboarding - thanks to the trusworthy trade winds
4.
Whale watching.
5.
Turks & Caicos National Museum
6.
Swim at Taylor Bay Beach - family friendly shallow
7.
Snorkeling at Bright Reef (Grace Bay, Providenciales)
8.
Golfing at Provo Golf Club
9.
Horseback Riding
10.
Kayak at Mangrove Cay
Power 92.5 FM
The Turks And Caicos Islands have a population of about 30,000 spread over nine inhabited islands, but there are roughly 100 named islands and cays in the Turks and Caicos.
Basically there are two island groups: the Turks Islands of Grand Turk and Salt Cay to the east, and the larger Caicos Islands archipelago of Providenciales, North Caicos Middle Caicos, East Caicos, South Caicos and West Caicos to the west. What divides these two island groups is the 20 mile (32km) wide and 5000 foot (1.5km) deep Columbus Passage
Providenciales is the most populated. Grand Turk comes second on which you'll find the capital city of Cockburn Town.
The primary source of income is tourism, and most resorts and hotels are found on Grace Bay Beach on the island of Providenciales .
Check out our blog: CoolestCarib.com/blog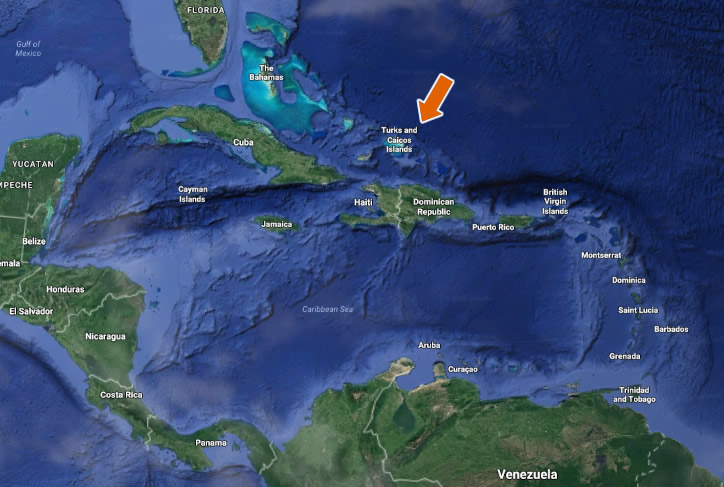 Caribbean
and need professional assistance with your website and social media,
gandor.tv
will create, maintain and promote it for you.
If you're interested in some facts of this island i.e. history, government, taxation, animals read the Fun Facts below
Enjoy your stay!

National Anthem
"God Save The Queen"
PHOTO OF THE DAY TURKS AND CAICOS

WEATHER FORECAST TURKS AND CAICOS ISLANDS
SOCIAL MEDIA TURKS AND CAICOS

FUN FACTS TURKS AND CAICOS
Nationality
Only people with Turks and Caicos Islander status (previously titled Belongership) can vote.
Resident Foreigners with Annual Resident Permit and Work Permits This represents the majority of foreign workers in the country, who are restricted to their category of work and employer.
Resident Foreigners with Permanent Residence Status (PRC), with or without right to work Most retirees or people who have invested in the country are granted PRC status, usually without the right to work.
Citizens (holders of British Overseas Territories Citizenship by virtue of connection with the Turks and Caicos Islands) This entitles you to a passport (which says Turks and Caicos Islands on the cover) and gives you residence and work rights. This passport, without having the separate Turks and Caicos Islander Status, does not give the holder voting rights or the right to open restricted business categories.
Turks and Caicos Islander Status (previously titled 'Belongership') This status is needed to vote, hold government office, or own a business. It does not entitle you to a passport, but gives you all other rights normally associated with citizenship.
Joint Citizens and Turks and Caicos Islanders This represents the majority of the 42.5% (2012 Census) voting population in the country. They hold the British granted Overseas Territories Citizenship, which gives them a passport, and the locally granted Turks and Caicos Islander status, which gives them voting rights in the country.
Size
Area 238 mi² (616 km²) Highest Point 156 feet (48 metres)
Population
31,458 (2012 Census)
Currency & Credit Cards
US Dollar. Major credit cards are accepted in many, but not all establishments.
Government
The Turks and Caicos is not a sovereign country. It is an overseas territory of the United Kingdom (a colony). Its status as a British Overseas Territory means that they don't have a seat in the United Nations, their own Olympic team, or the ability to issue their own passports.
Defence and external affairs are the responsibility of the UK Government. Queen Elizabeth is the head of state, and is represented locally by an appointed governor (usually for a four year term but it varies).
Head of government is the locally elected Premier (previously titled Prime Minister), who is elected for a four-year term. Two main political parties exist, the People's Democratic Movement (PDM) and the People's National Party (PNP).
Time Zone
GMT/UTC - 4h (utilizes no Daylight Saving Time) in Atlantic Standard Time.
Drives on the
Left
Calling Code
+1-649
Main Town
Cockburn Town
Taxation
In the Turks and Caicos Islands there is no income tax, property tax, inheritance tax, capital gains tax, or corporation tax
For individuals, there are direct forms of taxation. They are mandatory contributions to National Insurance (NI) and the National Health Insurance Plan (NHIP). If you earn $5,000 per month, direct taxes would be $700 ($400 National Insurance and $300 Health Insurance).
There's an indirect taxation, which is 37.5% duty on most imported items. Both National Insurance (NI) and the National Health Insurance Plan (NHIP) are meant to be self-sustaining and they are independent of general government revenue.
Animals
Since the Turks and Caicos consists of about one hundred small isolated islands, the flora and fauna are endemic. Land animals include reptiles and amphibians and some species are found uniquely on these islands for example the Turks and Caicos Islands Rock Iguana. This large and docile lizard is considered critically endangered by IUCN due to its limited global range, and is found on Little Water Cay, Water Cay, Ambergris Cay, French Cay, and some of our smaller islands as well.
There's a wide array of smaller native reptiles, including the Curly-tail lizard, anole, geckos, and skinks. The Turks and Caicos curly-tail lizard (Leiocephalus psammodromus) is the largest of the non-iguana lizards, and is commonly seen in nearly all terrains in our islands. These interesting little creatures reach maximum lengths of about 10 inches (25cm), and eat insects and small fruits.
The southern Bahamas anole is found in the Turks and Caicos, and the local sub-species, (Anolis scriptus scriptus), can be found on almost every island of ours of any significant size. These anoles are a little smaller than the curly-tailed lizards, yet survive on much the same diet. The Turks and Caicos is home to several types of endemic geckos, including the Caicos barking gecko (Aristeliger hechti), the Caicos reef gecko (Sphaerodactylus caicosensis), and the Turks reef gecko (Sphaerodactylus underwoodi).
For more on Turks and Caicos fauna & flora visittci.com
Food
Conch, breaded and fried "conch fritters", or served raw as a mixed conch salad. Fish, like the grouper and snapper, either pan cooked or fried, is a fish dish of choice. and of course the seasonal lobster, from August to March. Naturally grown food, yet in small quantities in the northern areas include sweet apples, sweet potatoes and sugar cane.
Plants
Native plants include the Turks Head cactus, sea-island cotton, a wide variety of orchids, native oak and mahogany (both used for boat building), mangroves, Lignum vitae, sea grape, silver and green buttonwood, wild yellow allamanda, cordia, sea oats and acacia. Plants that have been bought here include the sisal, aloe vera, coconut and wild pomegranate.
Lingo
The language of the locals in the Turks And Caicos Islands, is English.
National Flower
The Heather
National Bird
The Brown Pelican
National Tree
The Pine Tree
Smoking Policy
Stricter than in USA. Smoking is prohibited in hotels in addition to most other public places.
5 Best Virgin Gorda Beaches
Grace Bay Beach - Often ranked as the best beach in the world. Located on the north coast of Providenciales, part of the Princess Alexandra National Park and home to many of the country's luxury resorts. The bay is protected by a barrier reef system, boasting great scuba diving sites. To the west of Grace Bay you'll find Bight Beach, and the snorkelling sites of the Bight Reef and Smith's Reef.
Leeward Beach - Located to the east of Grace Bay. There are no large luxury resorts, which makes it very quiet and secluded. The channels off the eastern side of Leeward are ideal for wakeboarding, kayaking, stand up paddle boarding.
Mudjin Harbour - A top attraction on the island of Middle Caicos. The high limestone cliffs, white sand beach, Dragon Cay, caves, and breaking surf create a spectacular landscape in the Turks and Caicos Islands. The name Mudjin Harbour is a local evolution of Bermudian Harbour, as the coast is reminiscent of the bluffs and cliffs of Horseshoe Bay Beach and Stonehole Bay Beach in Bermuda.
Long Bay Beach - The kiteboarding spot on Providenciales. It features fine, white sand, and shallow, turquoise water that continues out for miles across the Caicos Banks. The trustworthy eastern trade winds create the most perfect conditions for kiting, and its shallow depth allows kiters to stand when they're not flying across the water - great for beginners and pros. Long Bay Beach is also very popular for horseback riding. Off shore you'll find the wreck of the La Famille Express, a Soviet oil rig service vessel that became a Dominican freighter, which was grounded during Hurricane Frances in 2004.
Half Moon Bay - It's a beach and sand bar lagoon that filled in over time in the channel between Water Cay and Little Water Cay. This piece of paradise is the number one boat excursion destination in the Turks and Caicos. Here you'll also find the unique Turks and Caicos Rock Iguana scurrying about the dunes, and a picturesque shallow lagoon on the southern side of the beach.
For more on the Turks and Caicos beaches visittci.
Geography
The Turks and Caicos Islands consist mostly of low, flat limestone with marshes and mangrove swamps, surrounded by sandy beaches. Middle Caicos and North Caicos are covered in some areas by woodlands and caves. The highest point in the Turks and Caicos is on East Caicos; Flamingo Hill with an elevation of 156 feet. The Turks are separated from the Caicos Islands by the Turks Island Passage, which is a measured 2,200 m (7,200 ft) deep.
Brief History
Archeologists report that the first inhabitants here were Taino people who arrived from the island of Hispaniola between 500 to 800 AD. Later on other Tainos arrived from Cuba and the southern Bahamas. They were the sole residents of the island for nearly seven centuries and lived peacefully as fishermen and farmers.
The Spanish arrived in 1492 and captured many Tainos for slave labour in Hispaniola. Turks and Caicos were then explored by the British, French and Spanish, but no permanent settlements were established yet. In the 17th century salt collectors from Bermuda settled here. who raked the salt (a precious commodity) from the shallow waters to be shipped back to Bermuda. In the 1770s the French arrived and made these islands into a safe retreat for British Loyalists fleeing the American colonies during the Revolutionary War.
In 1799, the British annexed the islands into their Bahamas colony. That consolidation movement was unsuccessful and the effort to integrate them failed.
In 1841, a Spanish slave ship named the Trouvadore shipwrecked near East Caicos while transporting African slaves to be sold to the sugar plantations in Cuba. 192 Africans aboard survived, and those who remained served the British as apprentices in varied trades for one year. History books have it that they were taught English and later freed.
In 1874 Bahamas and the Turks and Caicos Islands were devastated by the "Great Bahamas Hurricane", and the Islands were annexed by the British to Jamaica because of governmental and medical reasons.
In 1917, Canadian Prime Minister Robert Borden suggested that the Turks and Caicos join Canada. The British government rejected the suggestion and the islands remained a dependency of Jamaica until 1959.
In August of 1962 Turks & Caicos Islands became a British crown colony when Jamaica was granted independence from Britain.
Today the Turks and Caicos Islands are a leading international investment center for the offshore investor.
Sources of info VisitTCI.com and WorldAtlas.com
Coolest Caribbean
Tip of the Day
Coconuts! Super healthy, but dangerous at times. At beach you'll be looking for shade. Don't settle down under the first palm tree you see without looking up first. And lay down your towel not directly under those football-size helmet-hard coconuts. When they drop they can do serious harm!